Memory Care Redding, CA
Despite the progressive nature of Alzheimer's and other dementias, a person's independence, ability to function, and quality of life may be improved through the person centered living approach. Service plans, life enrichment, and daily living needs are met with the individual's desires and preferences taken into account. We do our best to tailor services to each individual, according to their preferences and lifestyle.
Memory Care settings may provide physical and emotional relief as well as peace of mind for families with a memory-impaired loved one. Memory care staff members receive dementia-specific training when learning how to provide assistance services to seniors with dementia.
 Learn more about Dementia and Sleep Disorders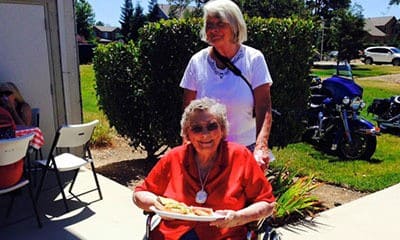 Benefits of a community-based memory care setting include:
Buildings secured with keypad entry to minimize risk of wandering
Secured kitchen areas to minimize risk of cooking hazards
Regular human interaction and programs to engage the memory-impaired individual in daily life, minimizing isolation
Diet and exercise monitoring
Senior well-being monitoring and communication with family
Freedom from caring for a loved ones daily needs, so families can focus on spending quality and joyful times with the individual
If needed, our staff will assist in contacting a new healthcare provider.