About Us
The Vistas Assisted Living and Memory Care's Mission
Our mission is simple: Creating environments where moments of joy, independence, and wellness are the focus each and every day.
The Vistas Assisted Living and Memory Care is part of the Ridgeline Management Company family. All Ridgeline communities are part of a greater network of independent, assisted living, and memory care communities across the United States. Each Ridgeline community shares the same values, philosophy, and mission yet retains its own individual personality and local mindset.
We believe in finding the best methods and people to serve our seniors—wherever they may come from. That is why Ridgeline and its communities create opportunities to share and learn from each other's experiences; to better the senior services we bring to you, our customer. Every community works together to fulfill our mission.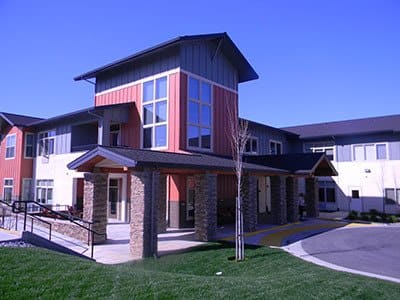 Outstanding Department Director
We are very proud of this extraordinary team leader at The Vistas: CALA (The California Assisted Living Association) awarded their 2015 EXCELLENCE IN SERVICE AWARD to The Vistas Assisted Living & Memory Care's Lonnie Julius as the Outstanding Department Director "Lonnie is an incredible individual with a heart the size of Texas. Her willingness to do whatever it takes, and the time she invests in relationships, speaks louder than a marketing or advertising plan ever could," says Administrator, Karilee Baird. The manner in which Julius serves residents, family members and colleagues is inspiring, and there are many examples in which she goes above and beyond. She has provided child care for a team member, used her vacation time to visit a resident who relocated to Arkansas, drove four hours round-trip to pick up a resident's daughter at the airport, and visited a resident during a stay in a rehab hospital an hour away. In addition to serving residents and family members, Julius is giving in her personal life as well. She is the mother of an adopted son, is certified to teach English as a second language, and has traveled frequently to volunteer in Africa. She is described by others as kind-hearted, passionate, and driven. Baird says, "Her authentic love for people and drive to make a difference has impacted our community of residents, family members, staff, and friends immeasurably."

Administrator of the Year
LisaAnn Shelton, Ridgeline President/COO, Karilee Baird, John Cieri, Regional Director & Dr. Chuck McGlade, CEO At the Ridgeline corporate-wide Awards Dinner and celebration held on September 24th, in Portland, Oregon, Administrators were gathered from across the country. A handful were recognized for outstanding performance in the areas of resident satisfaction, occupancy, receivables, length of service and exemplification of company core values. The Vistas' Administrator, Karilee Baird, was a standout, winning the coveted Administrator of the Year award, the 100% Club for total occupancy, the West Region JIW (Joy, Independence & Wellness) award, and was also honored for her 10 years of devoted service. Ridgeline CEO, Dr. Chuck McGlade, also presented Karilee with an original painting for her community. Mrs. Baird is a stellar senior living administrator, always at the ready to assist sister communities, is beloved by her team and the residents alike. In 2016 Karilee was promoted to Ridgeline Director of Education and Innovation. We look forward to having Karilee to share her wealth of knowledge and innovative ideas with other Ridgeline properties.